These are uncertain times, and we don't have all the answers, but what we do know now is that small businesses have felt sudden changes in their campaign performance as a result of this worldwide pandemic. We've noticed Google search impressions begin to decrease modestly—7% below average. That's not uncommon, particularly during holiday weeks, but it was certainly not expected by many advertisers. Here are several industries that have noticed serious changes to their Google Ads accounts over recent days and weeks as COVID-19 has spread and interrupted normal life and business.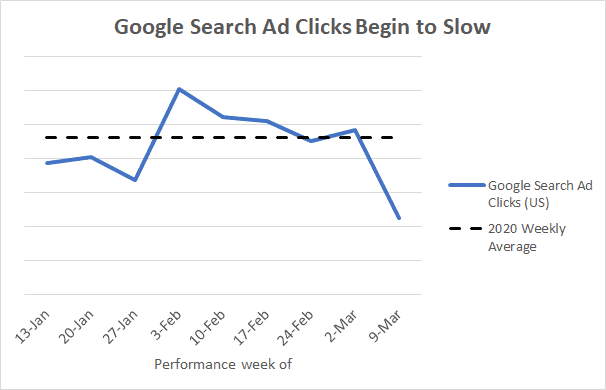 Industries with increased performance
Business Management
Industries with increased performance Business Management Business management searches grew by 23% since February 23, 2020.
As people prepare for remote working, office supplies became a sudden breakout industry. Searches for office supplies increased 90%, paid search ad clicks increased 35%, and search conversion rates increased 41%
As traditional retail has shifted focus to operating online, packing and shipping supplies more than doubled their search ad conversions (up 123%) and search ad conversion rate (up 107%).
Finance
The markets may be performing poorly, but it looks like now more than ever searchers are looking for experienced help. In an industry that normally has some of the most expensive keywords and a high cost per click, we're seeing CPCs fall and relieve some pressure from a normally competitive industry.
Beauty and personal care
People are searching for products like soap and hand sanitizer, as well as seeking more self-care in these hard times. We're noticing a 41% increase in searches for beauty and personal care.
On-demand media
As many of us practice social distancing, we're consuming more entertainment at home. While most entertainment advertisers are picking up the increased demand and driving a few extra conversions, on-demand media has skyrocketed and doubled its conversions in the past few weeks.
Greetings, gifts, and flowers
Social distancing is a lonely experience, and it's difficult to maintain our connections for what may be weeks or months apart. Small gestures can mean even more throughout the COVID-19 pandemic, and advertisers who are wise enough to advertise on Google are seeing some great results. Over the past three weeks, since the coronavirus escalated in the US:
Searches for cards and greetings have seen a 15% increase in conversion rate.
Searches for gift baskets have seen a 30% increase in conversion rate.
Searches for floral arrangements have seen a 43% increase in conversion rate.
Health and medical
Unsurprisingly, many of us are turning to search for information on how to protect ourselves and our communities. As users turn to the stores and the SERP to purchase everything from over-the-counter painkillers to vital medication, many advertisers are seeing increased ease in selling their products online, with ad clicks and conversion rates both significantly higher than usual.
Real estate
Borrowing rates remain low, and the housing market is currently holding. On the Search Engine Result Page (SERP), search traffic remains relatively stable.
Property development & construction industries both are seeing declining conversion rates -53% and lower search volume.
Both real estate listings and real estate agent searches have seen some increased cost per click +15% . However, real estate listings have seen a -25% decrease in conversion rates while real estate agents and brokers have observed a 30% increase.
Moving and relocation services have seen a 11% increase in search volume while maintaining a healthy CTR, CPC, and CVR.
Home improvement
March is often a seasonal lull for Home Improvement projects naturally, so we shouldn't be surprised to see that Home Improvement searches have been slowly declining for the past few weeks. The next few weeks will be a litmus test for the industry.
On one hand, Canadians are spending more time stuck in their homes could inspire new home projects and an excuse to get off the couch. On the other hand, economic uncertainty may discourage discretionary spending.
Home furniture
Much like home improvement, things are unexpectedly consistent on these big-ticket items. Search volume, CPCs, and conversion rates have all stayed within +/-2% over the past weeks.
Smaller ticket items like home appliances and bedding and linens have seen search upticks and light conversion boosts (+7% and +12%, respectively), which may be a good sign for consumer confidence.
Non-profits
In times of crisis, we often see the best in people, and that's even true on the Google SERP:
A 10% increase in search ad impressions.
A 23% increase in search ad conversions.
A 20% increase in search ad conversion rate.
Automotive
The automotive industry is showing some stress on the SERP—with a noticeable 30% drop in the industry average conversion rate over the past few weeks. A 30% drop is never good, but it's hard to attribute all that to COVID-19.
Retail
Some would predict ecommerce to soar with traditional retail having reducing hours and operations. But while some families are turning to ecommerce to replace brick-and-mortar purchases, others are unsure of their future income. This instability is impacting user's conversion rates on from search ads—with retail conversion rates having fallen 14%. Ironically, wholesalers and liquidators seem to be noticing an opposite trend, with a 14% increase in CPCs but a 9% increase in conversion rates.
Jobs and education
Schools and colleges around the country are closed for several weeks, prompting a forced rise in elearning and training. Although the classroom has changed, there's yet to be short-term changes to the performance of higher education advertisers.
There's modest increase in paid search traffic for new careers and vocational training (+10% and +8%, respectively) in the past weeks, but that's largely aspirational for the moment, as conversion numbers haven't shifted noticeably.
Legal services
The legal industry is seeing some minor shifts on the SERP, with modest (under 5%) to search volumes and conversion rates. Luckily, this is offset by a similar decline in the cost per click. Unfortunately, over 30% of these calls are unanswered. If COVID-19 is impacting your firm's operations or hours, be sure to
Update your campaigns dayparting to reflect your current hours.
If you're working remotely, make sure your website, your call only ads, and your ad's call extensions reflect the best number to reach your team.
Track your phone calls from PPC using keyword level tracking.
Ensure that your Google My Business account is up to date to reflect your firm's current operations. Create a post to ensure prospective searchers that your firm is still active during this crisis.