These are uncertain times, and we don't have all the answers, but what we do know now is that small businesses have felt sudden changes in their campaign performance as a result of this worldwide pandemic.
We've noticed Google search impressions begin to decrease modestly—7% below average. That's not uncommon, particularly during holiday weeks, but it was certainly not expected by many advertisers.
Here are several industries that have noticed serious changes to their Google Ads accounts over recent days and weeks as COVID-19 has spread and interrupted normal life and business.
Travel and tourism
With businesses, governments, and consumers avoiding unnecessary travel at all costs, it shouldn't surprise anyone that fewer people are looking to book travel today.
Bars and restaurants
With many communities closing dine-in restaurants and bars, these small businesses will be hit hard during our time in social isolation. While many are learning to shift to delivery and take-out services, they're already hard-pressed finding success on the SERP this past week.

Conferences
Many large conferences have either cancelled, postponed their events until the fall, or are attempting to host a virtual event in place. Unfortunately, many businesses rely on event marketing to fill their marketing funnel so these event cancellations will have ripple effects to other businesses, as well. Since the COVID-19 outbreak at the end of February, event marketers have noticed a 33% reduction in conversions as more events continue to cancel.
Sports and Fitness
Major sports leagues and rec leagues alike are cancelled for the foreseeable future. As many communities increase their social distancing efforts, many more gyms are due to close and those that are open will see fewer new members walk through the door. All said, many verticals tied to sports and fitness are seeing strong declines to their conversion rate. A notable exception is that sports programs (online and offline) and sports camps have gained significant uplift in the past few weeks as many begin to plan to get out of the house.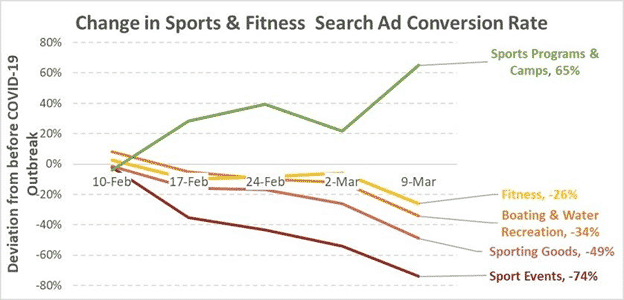 Building and construction
A sudden economic downturn and worksites being closed puts an unexpected damper in the building and construction industry. As future projects begin to stall or get delayed, prospective clients are becoming less likely to convert, as well. Recent timing is poor, as seasonal advertising costs in the industry are already beginning to rise.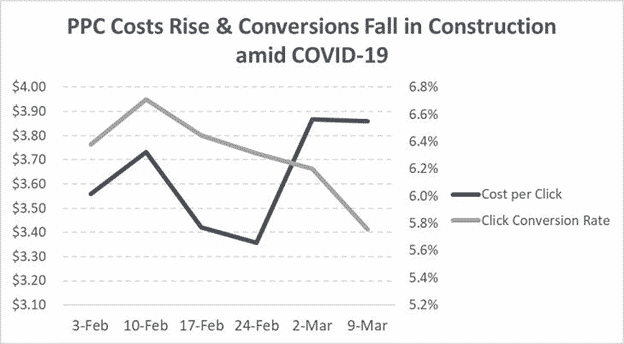 Industrial and manufacturing
As manufacturing operations are slowed, we're seeing PPC campaigns for manufacturing and industrial goods are also impacted. Costs per click have increased 5% and conversion rates in the industry have decreased modestly, but advertisers are hurting from a 13% decrease in search traffic.